Thinking of joining?
Applications requested
in haiku form please
Please include your age, names of all characters you have, and any additional information that you feel is relevant to your app (in addition to your haiku!). Also include whether or not your account is authenticated and what form of authentication you use.
If you're interested in raiding or subbing for raids, include your days/times available.
If you were in <Crossbones>, <Brothers of Night> or <Shadow Strikers> previously, please include the character's name that was in the guild as well as the reason you left. Re-apps require an officer vote.
We are currently accepting limited applications for raiders geared/ready for end-game content and have excellent haiku writing skills. Haikus must be unique, we do not accept plagiarized haikus!

By app'ing to the guild, you have read and agree to our Raiding Policies and Code of Conduct.
Note: you must be a registered user on this site to view the Raiding forums.
We archive all apps, so if you don't see your app here, it's because we have moved it. No need to re-apply.
p.s. If you don't app with an original haiku, your application will be denied.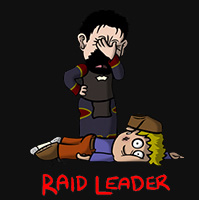 "WoW is all free candy and cookies and cute little pets...and then Kali yelling for hours. Same as it ever was, but with more crazy orcs." - Spirulina 3/15/15